France: Le Pen family feud deepens as Marine urges Jean-Marie to quit politics
Comments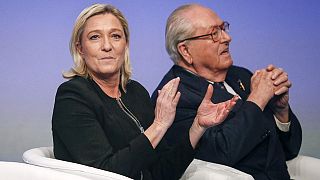 French National Front leader Marine Le Pen has urged her father, party founder Jean Marie, to retire from politics.
Jean-Marie Le Pen should show some wisdom...and perhaps give up his political responsibilities
The 86-year-old last week defended past comments that Nazi gas chambers were a "detail of history".
He was then quoted as calling France's Spanish-born Prime Minister Manuel Valls "the immigrant" and defending Philippe Petain, leader of the French war-time government that cooperated with Nazi Germany.
Le Pen senior's latest controversial comments, in the far-right weekly newspaper Rivarol, proved to be the last straw in an increasingly bitter family feud – prompting his daughter to launch disciplinary proceedings against him.
Marine Le Pen told French television on Thursday: "Jean-Marie Le Pen should show some wisdom. He should draw the consequences of the trouble he himself has created and perhaps give up his political responsibilities."
On the streets of Paris, some strongly backed Marine Le Pen's stance.
Nathalie, one resident of the French capital, said it was a good strategic move for Marine Le Pen to distance herself from her father and show her opposition to him, saying that this would enable her to win votes.
"She's right. She's right," agreed fellow Paris-dweller Paul-Francois Leca.
"He is an old geezer who must be removed. There you have it. He does it on purpose. So he should hit the road. That way, things will be in order."
Jean-Marie Le Pen remains the National Front's honorary president.
But his remarks threaten his daughter's efforts to rid the far-right party of its anti-Semitic image and widen its appeal as she readies a bid for the French presidency in 2017.
Under her leadership, the party has deepened its roots across France, winning outright control of some town halls and getting its officials elected onto provincial councils.
Polls suggest she could make it into the second-round run-off of a presidential election but would be unlikely to win.