Anti-austerity, anti-Macron Law: Thousands protest on streets of France
Comments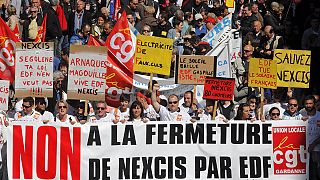 Anti-austerity marches have drawn tens of thousands to the streets of France.
In addition to grievances about public spending cuts under the current Socialist government, the crowds were also protesting against the so-called Macron Law (la loi Macron), currently being debated in the Senate.
Named after France's economy minister, the proposed bill covers a range of measures including loosening Sunday trading and deregulating certain professions.
Teacher Nicolas Mas marched in the capital Paris.
"All the established social rights of our labour laws are being questioned with this bill. We've gone back to the 19th century. It's incredible," he said, on the subject of the Macron Law.
Images from today's anti-austerity demonstrations in Paris http://t.co/Q1wmK5w0ns#stopausterite Photo: @LucieAbrgpic.twitter.com/kWZY82DJUs

— Seen (@seenco) April 9, 2015
Demonstrators nationwide also demanded equal pay for women and men and defended the state-supported healthcare system.
Frank Pascaud attended the Paris march on behalf of the Association of the Paralysed People of France. He said:
"The state is giving less and less money to the hospitals and to health care. And now is the time to act."
The biggest of the 70 trade-union-led protests took place in Paris, with 32,000 people in attendance, according to police. Organisers put the figure much higher, some estimating attendance of around 120,000 people.
Les syndicats se mobilisent contre l'austérité en France http://t.co/4mwAlV9enPpic.twitter.com/wsyEtEHgtE

— Michel Bugeia (@MichelBOfficiel) April 9, 2015
One of France's most iconic landmarks was temporarily closed down as a result of the march.
"The Eiffel Tower will be closed until 6pm and will re-open this evening," announced union representative Stephane Dieu. "Ninety percent of the staff… voted to go on strike to denounce the government's austerity policies."
Marches in Lyon, Marseille, Toulouse and other French towns also attracted thousands.
Paris
300 000 manifestants contre l'austérité en France, 120 000 rien qu'à Paris... Ce n'est qu'un début ! pic.twitter.com/wE2CbglSx9

— Elias Duparc (@EliasDup) April 9, 2015
Bayonne, Basque Country
Parmi les manifestants qui défilent ce jeudi matin à #Bayonne : France Bleu http://t.co/6XU2dHBy5rpic.twitter.com/u72ZpIKF3O

— SO_Paysbasque (@SO_Paysbasque) April 9, 2015
Western France
Manifestations. Plusieurs défilés contre l'austérité dans l'ouest: http://t.co/QykG5e0II1pic.twitter.com/R3NXucH9JH

— Ouest-France (@OuestFrance) April 9, 2015
Rennes, Brittany
Manifestations. 2 500 personnes à Rennes contre l'austérité via @ouestfrancehttp://t.co/QQSFaktYB0pic.twitter.com/XPIgwqRv1n

— EON Hervé (@EONHERVE) April 9, 2015