Syria: UN calls for aid access to besieged Yarmouk refugee camp
Comments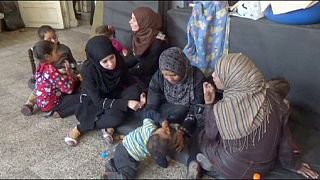 The UN Security Council says crimes against Palestinian refugees in Syria's besieged Yarmouk camp must not go unpunished.
The UN is also calling for aid access and the evacuation of civilians from the district.
The self-proclaimed Islamic State has taken most of Yarmouk from rival groups, while the Syrian army surrounds the area, according to the Syrian Observatory for Human Rights.
IS rules swathes of Syria and Iraq and is the target of US-led airstrikes.
Yarmouk, home to 18-thousand refugees, sits on the outskirts of Damascus, just a few kilometres from the palace of Syrian President Bashar al-Assad.
"The members condemned in the strongest terms the grave crimes committed by Daesh and Jabhat Al-Nusra against 18-thousand civilians in the camp and emphasised the need that such crimes do not go unpunished," said Dina Kawar, UN Security Council President and Jordanian UN Ambassador.
Yarmouk has long been a battleground, devastated by street fighting, air attacks and shelling – which has led to starvation and disease.
The camp was home to half a million Palestinians before the Syrian conflict began in 2011.