Palestinians put pressure on Damascus over Yarmouk crisis
Comments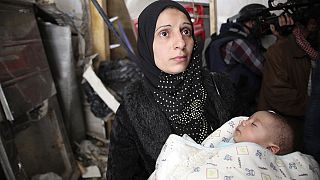 The desperate plight of Palestinians trapped amid fighting in Syria prompted dozens of people to demonstrate outside the UN headquarters in Gaza.
One of the organisers said the United Nations had a duty to secure the safe exit of women and children from the Yarmouk refugee camp in Damascus.
Banners held up at the protest read "Free world: assist our people" and "we want a camp free of weapons and militants".
A senior figure from the Palestinian Liberation Organisation (PLO), Ahmed Majdalani, said he was heading for Damascus to try to get the Syrian government to secure better protection for civilians.
The self-proclaimed Islamic State claims a series of still photos uploaded onto the internet show it to be in control of Yarmouk, where it is said to have captured Palestinian fighters.
Neither the photos nor a video purporting to show ISIL militants storming the camp last week can be verified.
Palestinians say their fighters have tried to resist ISIL's advance into Yarmouk.
The camp is almost entirely in the hands of ISIL after their attack, giving the jihadists a strong presence close to the Syrian government's seat of power.
The Syrian air force has dropped several barrel bombs on the camp, according to a British-based opposition group – the Syrian Observatory for Human Rights – and the UN.
The United Nations Relief and Works Agency says thousands of civilian lives are in danger.
"We have not been able to send any food or any convoys into the camp since the current round of fighting started. And of course that means that there is no food, there is no water and there's very little medicine. The situation in the camp is beyond inhumane," UNRWA spokesman Chris Gunness said.
The PLO says 2,000 refugees have been evacuated over the past few days. The total number in the camp has recently been estimated at 18,000.
The PLO and the UN have made separate calls for immediate humanitarian aid to be allowed into Yarmouk, besieged for over a year by the Syrian army.
As the #UNSecurityCouncil meets demand action 2 #SaveYarmoukBarakObama__</a> <a href="https://twitter.com/AmbassadorPower">AmbassadorPowerAngie_Merkel</a> RT</p>&mdash; Chris Gunness (ChrisGunness) April 6, 2015
Tell these leaders 2 SaveYarmouk fhollande</a> <a href="https://twitter.com/manuelvalls">manuelvallsPutinRF</a> <a href="https://twitter.com/MedvedevRussia">MedvedevRussiaDavid_Cameron</a> umber10gov marianorajoy</a> RT everywhere</p>&mdash; Chris Gunness (ChrisGunness) April 6, 2015