Slovakia: Pro-Ukraine demonstrators send message to visiting Lavrov
Comments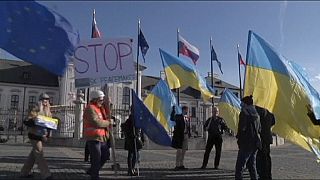 A small group of demonstrators gathered outside Slovakia's presidential palace on Saturday to denounce Moscow's role in the Ukraine crisis.
The Ukrainian flag waving group were hoping to get their message across to visiting Russian Foreign Minister Sergei Lavrov.
Lavrov was at the palace in Bratislava, as the city marks 70 years since its liberation by Soviet troops at the end of the Second World War.