Forensic tests help secure freedom for Alabama death row inmate
Comments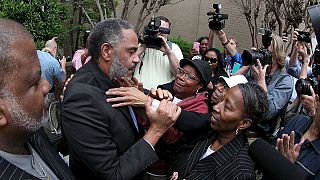 After nearly 30 years on death row in Alabama, Anthony Ray Hinton is finally tasting freedom.
A miscarriage of justice not only to me, but to the victims' family
Hinton, 58, was convicted of killing two fast-food restaurant managers in 1985, but modern forensic tests were unable to match bullets at the crime scene to the gun found at his home.
Greeted by well-wishers with cries of "Praise God" and a crowd of photographers and reporters, Hinton dabbed away tears and said: "For all of you out there snapping pictures of me, I want you to know there is a Lord."
He added: "I want to say to the victims' family, I will continue to pray for you just as I have for 30 years – a miscarriage of justice not only to me, but to the victims' family. For all that say we believe in justice, this is the case to start showing, because I shouldn't sit on death row 30 years. Everybody that played a part in sending me to death row, you will answer to God."
Hinton's case was picked up in 1998 by the Equal Justice Initiative, which tried for more than a decade to get the bullets re-tested.
The US Supreme Court threw out his conviction last year, and prosecutors decided not to retry him for the killings.
Among those waiting outside the Jefferson County jail was Hinton's lawyer, Bryan Stevenson, director of the Equal Justice Initiative.
"How wonderful it is that freedom is finally back for this man," he said. "He was convicted because he was poor."
A former day labourer, Hinton plans to stay with a childhood friend upon release, Stevenson said. His mother died while he was in prison and he has no other family in the area.
Hinton spent most of the time in a solitary death row cell, said Stevenson.
In throwing out his conviction, the US Supreme Court agreed that Hinton had been inadequately represented at trial. Its ruling found that his court-appointed attorney used as a witness a firearms expert he knew to be incompetent.