Iran and world powers reach outline nuclear deal
Comments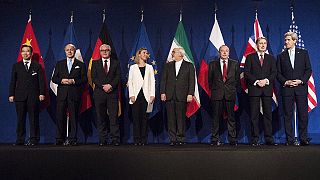 Iran and six world leaders have reached an outline deal on Tehran's nuclear programme. Iran has agreed to have just one atomic facility, to shut down two-thirds of its installed uranium centrifuges, and to dismantle a plutonium-producing reactor.
We're still some time away from reaching where we want to be.
Iran's Foreign Minister Mohamed Javad Zarif told a news conference: "We can now begin to draft the final text of the agreement and its attachments using the solutions achieved over the last three days."
Zarif cautioned however: "We're still some time away from reaching where we want to be."
The political understanding reached after eight days of intensive negotiations in Lausanne, Switzerland is the first major step towards a comprehensive agreement which Iran and the six powers aim to conclude by the end of June.
Federica Mogherini, the EU's Foreign Policy Chief, coordinated the talks.
"As Iran pursues a peaceful nuclear programme, Iran's enrichment capacity and enrichment level and stockpile will be limited for specific duration and there will be no other facilities than Natanz," said Mogherini.
One of the most sensitive issues during the negotiations, Iran's research and development work, will also be limited.
"Iran has agreed to not conduct research and development associated with uranium enrichment at Fordow for 15 years," a US fact sheet said. It also noted that Iran will remove the 1,000 more-advanced second-generation centrifuges currently installed at Natanz and place them in International Atomic Energy Agency-monitored storage for ten years.
High enriched uranium can be used to make a weapon, which they aim to prevent, while low enriched uranium is used in power plants. Iran has always insisted it wants it only for a peaceful nuclear energy programme and denies it aimed to build an atomic bomb.
Iran's breakout timeline – the time that it would take for it acquire enough fissile material for one weapon – would be extended to at least one year, for a duration of at least ten years, under this framework. It is currently assessed to be two to three months, the US fact sheet said.
Many details still need to be worked out. Experts say the framework deal is fragile and believe it will be much more difficult to reach a final comprehensive accord than it was to agree to the framework deal.
Euronews correspondent Reihaneh Mazaheri, reported from Lausanne: "Finally after 18 months of intense negotiations between the six powers and Iran, all sides agreed on a 'common understanding' which could be helpful to reaching a comprehensive accord by the end of June. But, this first deal does not guarantee that such an agreement will be achieved."