Starting gun fired in UK election
Comments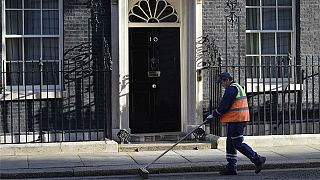 Campaigning officially kicked off on Monday for Britain's general election, with Prime Minister David Cameron visiting the Queen at Buckingham Palace in London.
His royal meeting came as Britain's parliament was dissolved ahead of the 7 May vote, which is expected to be the closest ballot in decades. Polls predict nobody will win an outright majority.
Although the government formally continues until a new one is formed, convention dictates it take no more major policy
decisions, while the 650 members of the lower house of parliament revert to being ordinary members of the public.
After visiting the monarch, Cameron returned to Downing Street where he declared his country faced a stark choice between his Conservative Party and what he described as the economic chaos of Ed Miliband, leader of the opposition Labour Party.
Cameron has been emphasising that he wants another term in office "to finish the job."
Miliband himself attacked Cameron's record on the European Union, accusing the prime minister of playing political games with Britain's membership of the bloc.
Meanwhile, Cameron's coalition partner Nick Clegg, who heads up the Liberal Democrats, said the country faced a dismal choise between lurching left or lurching right. He said only his party could strike the right balance.
Voters failed to produce a majority for either the Conservative or Labour parties in the House of Commons in 2010, and the electoral landscape is even more fractured now.
Smaller parties, such as the Scottish and Welsh nationalists, Greens and anti-Europeans, could hold the balance of power in May's vote.
Britain's continued membership of the European Union hangs on the outcome, as does the future of the increasingly frayed balance of power between the UK and Scotland.
In a sign of the uncertain times reflecting the fragmentation of the political landscape, the leaders of the two main parties -Conservatives and Labour – will on Thursday be joined by the leaders of five other parties for a seven-way TV debate.
The issues on the slate: how to tackle the budget deficit, the future of the country's treasured but troubled National Health
Service (NHS), and immigration.
Both the Conservatives and Labour say they want to better manage immigration flows and pump more money into the NHS.
The main difference between them is on the deficit with the Conservatives promising to cut it faster with deeper spending
cuts and Labour saying it would do it more steadily and fairly.