Syria: Idlib 'captured' by Islamist rebels in blow to Assad regime
Comments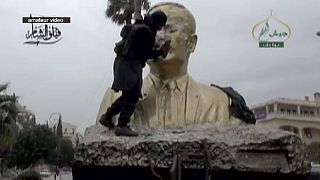 Islamist groups in Syria including al Qaeda's Nusra Front have reportedly seized the city of Idlib, dealing a huge blow to the Assad regime.
Social media images purportedly from the northwestern city show
rebels attacking a statue of Bashar al-Assad's father, Hafez, his predecessor as president.
If the reports from monitors are confirmed, it would be a major gain for the Islamists.
Idlib, its population swollen by hundreds of thousands of people displaced by the war in Syria, is close to the strategic highway linking Aleppo to Damascus and to the coastal province of Latakia, a stronghold of President Assad.
Sunni Islamist groups have formed an alliance which includes Nusra, the hardline Ahrar al-Sham movement and Jund al-Aqsa. They launched the offensive to capture Idlib city on Tuesday.
The Islamist alliance calls its operation Army of Fatah, a reference to the conquests that spread Islam across the Middle East from the seventh century.
Groups taking part in the offensive to seize Idlib posted videos on the internet showing fighters roaming the streets. Voices in the videos said they were in the centre of the city.
The film showed insurgents shooting in the air and chanting "Allahu Akbar" (God is greatest) outside a compound formerly held by government forces.
"They have entered the city from several sides but the major push was from the northern and western sides," said Rami Abdelrahman of the Syrian Observatory for Human Rights, a British-based group which monitors the civil war.
Idlib would be the second provincial capital to fall from the Assad regime's grasp after Raqqa in the north. It, too, is in the hands of hardliners – rival jihadists from the group calling itself Islamic State.
Syria's four-year-old war has killed more than 220,000 people and forced millions out of their homes.