Germanwings crash: recovery mission 'difficult' amid bad weather
Comments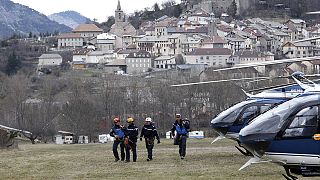 Euronews corrrespondent Laurence Alexandrowicz is in Seyne-les-Alpes, close to the scene of the Germanwings air crash.
She described the importance of Wednesday's visit by European leaders and the conditions being faced by emergency teams on the ground.
Sophie Desjardin, euronews:
"You have been there since Tuesday, what has been happening?"
Laurence Alexandrowicz:
"The event of the day has been the arrival of three leaders, from three nations that are affected. German Chancellor Angela Merkel had wanted to look at the scene of the crash.
"The leaders first arrived in Seyne les Alpes. Then they went to Vernet, a small village a few kilometres away, around a dozen kilometres away, which is much closer to the scene of the crash. Then they went to a chapel of rest in Seyne les Alpes, where at the moment, there are no bodies.
euronews:
"Were local people expecting Hollande, Merkel and Rajoy? Was it important that they visited?
Laurence Alexandrowicz:
"Yes, yes, the population here is really shocked. People are very moved. We saw just saw a man at the village church who had signed a condolence book. He said that he had signed it because he oftens spends his holidays in Spain and it moves him a lot. So it is true that the arrival of the leaders is very important to this region, where there are tiny villages. The village where we are has 15-hundred residents – and it's really big in the region."
euronews:
Have you seen many families arriving and what support are they getting?
Laurence Alexandrowicz:
"We've been told that families of the victims have arrived in the town of Digne les Bains, about 30 kilometres from here. They are being looked after psychologically. There are also psychologists waiting for families in the chapel.
"A plane is leaving Barcelona tomorrow, and another will bring families from Dusseldorf.
"And then there will be a different plane that will bring the families of the six crew members."
euronews:
And what are the conditions like for the emergency teams who've been deployed?
Laurence Alexandrowicz:
"The weather is very bad here. As I speak to you, I have the mountains in front of me and I can see thick fog around the top of the mountains. So the helicopters continue, but I think it's difficult for them because there is no visibility in the mountains at the moment."