Barcelona and Manchester United see off arch rivals
Comments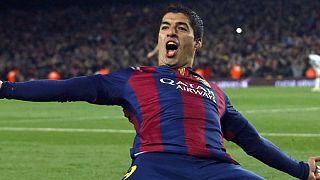 Barcelona took a major step in reclaiming the La Liga title over the weekend courtesy of an El Clasico victory over arch rivals Real Madrid.
The win at the Camp Nou fired Luis Enrique's men four points clear at the top of La Liga.
It doesn't get bigger than this in Spain – the El Clasico.
It's usually pride at stake in the early season encounters between the pair but at this stage of the season the Barca/Real battle can be the difference of winning the title or not.
In a pulsating battle Cristiano Ronaldo cancelled out an early header from Jeremy Mathieu on 31 minutes.
But 11 minutes after the restart Barca were back in front and for good this time when Luis Suarez superbly controlled the ball to drive his shot past Iker Casillas for the win.
With just ten games left of the campaign Lionel Messi and company are four points clear.
Seeing red
In England, Manchester United halted arch rival's Liverpool's fine run in 2015 at Anfield to move to within one point of the top three.
Manchester United's 2-1 win over Liverpool at Anfield could prove to be very significant and United boss Louis Van Gaal has hailed it 'one of the most important moments' of his career.
Spaniard Juan Mata caused Liverpool a world of trouble throughout, in particular Alberto Moreno who, for long periods, looked lost when trying to mark his compatriot.
Mata brought his A game to Anfield and put United into a deserved early lead.
The game turned again in Manchester United's favour immediately after the restart.
Just 38 seconds after coming on as a second-half sub captain Steven Gerrard was sent back the way he came.
Gerrard, who was playing his last game against United before moving to the United States to play Major League Soccer next season, was shown a direct red card off for stamping on Ander Herrera.
The former England international began his brief stint on the pitch with a thunderous tackle on goalscorer, Mata.
He followed that up with a reckless and uncharacteristic reaction to a challenge by Herrera.
It was his sixth career Premier League red.
Whilst Liverpool were left licking their wounds United confidently hopped onto the team bus to head back home in the knowledge they are now five points clear of their rivals and with a firm grip on a top-four place and Champions League football next season.
With eight games remaining this season a top-four finish is now United's to lose.
Up and down
Who is riding high at the moment and who isn't. Let's now have a look at who has made our up and down list from the last week.
Making the up list is the French first division which is one of the only European leagues to see a real tight battle for the title.
PSG, Lyon and Marseille are separated by just two points while Monaco in fourth are four points adrift but have a game in hand.
Also on the up and deservedly so is Tottenham's goal-scoring machine Harry Kane.
He scored his first Premier League hat-trick in his side's weekend win against Leicester taking his tally to a chart topping 19 league goals this term – his form has also earned him a first call up to England's senior squad.
Bayern Munich are on the down list this week although it's far from crisis time.
The Bavarians lost at home for the first time this season when they were beaten by Borussia Mönchengladbach.
Despite their second defeat in total this campaign Pep Guardiola's men are still cruising towards the title as they still enjoy a 10 point lead at the top.
On this day
On this day in 1994 a global star was born when Brazil handed Ronaldo his first cap.
Since the Brazil-Argentina friendly Ronaldo has dribbled his way into the pantheon of all-time greats.
The 17-year-old striker replaced Bebeto with 10 minutes to go in a friendly against Argentina in Recife.
The Brazilians eventually won through 2-0.
Ronaldo went on to become a footballing legend with two world titles to his name.
He was voted FIFA World Player of the Year on three occasions, in 1996, 1997 and 2002.
Ronaldo, who played for European clubs Barcelona, Inter Milan, Real Madrid and AC Milan, was inducted into the Brazil national football team Hall of Fame in 2006.
We might be wrong
At the end of the week the domestic leagues will take a short break and move over for the Euro2016 qualifiers.
We have given it a go at predicting some selected fixtures, have a go yourselves by sending us yours predictions and comments vie the social network using #TheCornerScores.
Spain 3-1 Ukraine
Georgia 0-3 Germany
Bulgaria1 – 2 Italy
Portugal 2 -0 Serbia
Bloopers
This week on Bloopers we take a look at how attempting a stunning Panenka from the penalty spot can sometimes go horribly wrong, even for some of the sport's greats. (see video above)