No longer a mystery: Pompeii's 'crown jewel' restored
Comments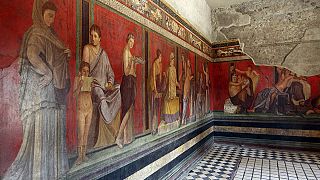 After a two-year restoration project, Pompeii's crown jewel, the Villa of Mysteries, has been unveiled.
Plans to restore the ancient Italian city have been plagued with problems. Mismanagement and neglect meant it risked losing millions of euros of EU funding and could end up being delisted as a UNESCO world heritage site.
But at a ceremony celebrating the restoration, Culture Minister Dario Franceschini seemed to be looking on the bright side.
"Well, it is a great day for Pompeii, because it gives back to the world the beauty of the Villa of Mysteries," he said.
"If you ask me if we have restored everything at Pompeii, I have to say 'no', but if you ask me if we are fixing it, I'll answer 'yes!'"
A #Pompei per l'inaugurazione della Villa dei Misteri. Con @graziano_delrio stiamo rispettando impegni presi con UE. pic.twitter.com/y7pi4il9K3

— Dario Franceschini (@dariofrance) March 20, 2015
The Villa of Mysteries contains some of the best-preserved frescoes on the site. It is one of three completed projects in the city, while thirteen are said to be underway and nine in the pipeline.
Pompeii was destroyed when Mount Vesuvius erupted in 79 AD, burying the city under metres of volcanic ash. Archaeologists later realised the ash had helped preserve many of Pompeii's treasures.