Why has the EU backed plans for an energy union?
Comments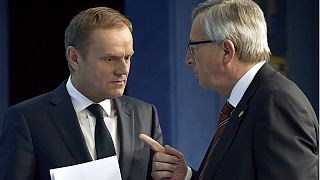 European chiefs have this week backed plans for an energy union – a single market for power and gas based on improving connections between member states.
But they stopped short of moving towards the EU buying power on behalf of the bloc or interfering with member states' energy mix.
Here we take a closer look at why these plans have been put forward and what Europe hopes to achieve.
Why do we need an energy union?
Officially the European Commission says the goal is to give "businesses and consumers access to secure, sustainable, competitive and affordable energy".
What isn't talked about explicitly in the EC's justification is Russia.
But Moscow's aggressive behaviour in Ukraine and Crimea has triggered more urgency to develop a union, it has been claimed.
The EU is the world's largest energy importer, going externally for 53% of its requirements. It relies on Russian firm Gazprom for a third of its gas needs.
Meanwhile Estonia, Finland, Latvia and Lithuania depend on Russia for their entire gas supply, while Slovakia, Bulgaria and the Czech Republic rely heavily on it.
It's been claimed one of the reasons the EU has been so ineffective at dealing with Putin's aggressions is because it's unclear to what degree he would play Russia's energy card to further his goals.
Russia turned off the gas taps in 2009, causing shortages in the EU.
How would an energy union reduce reliance on Russian gas?
Firstly by moving energy within the EU more efficiently. The EC wants states to work together to build the infrastructure to improve the energy connections of the bloc, particularly to peripheral regions. It is keen that when countries are in situations of tight supply, they can rely on their neighbours.
It could also help the EU profit from its economies of scale to secure new suppliers. The EC says an energy union would mean "a stronger and more united EU could engage more constructively with its partners, to their mutual benefit". But there has been no agreement from EU states for energy to be bought collectively.
How else can the EU improve the bloc's energy security?
The EC has called for more involvement when an EU country negotiates with a third-party, like Russia, for energy. This, says the commission, would ensure the deals comply with EU rules for security of supply. However, EU leaders have stopped short of backing this proposal.
There is also mention of improving energy efficiency, which would increase security and help to meet climate change targets.
What do critics say?
Environmentalists say searching out new supplies of gas are contrary to the EU's commitments to cut carbon emissions.
Tara Connolly, Greenpeace's energy policy advisor, said: "The left hand doesn't know what the right hand is doing with this plan. The Commission says the EU should move away from fossil fuels but it also wants to chase after new supplies and doesn't rule out coal."
Meanwhile anti-EU party UKIP claims the energy union is an attempt to use tensions with Russia to take control of energy supplies and the regulatory powers of the member states. It claims instead of Moscow the EU will look to Turkey, Algeria, Turkmenistan and Azerbaijan for energy, questioning whether these sources are any more reliable.