US to 'reassess' relations with Israel after Netanyahu comments
Comments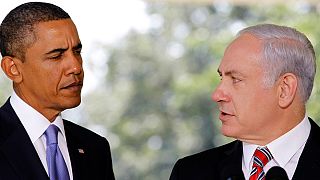 US President Barack Obama has told Israeli Prime Minister Benjamin Netanyahu that Washington would "reassess" US-Israeli diplomatic relations after Netanyahu made it quite clear that there would be no Palestinian state on his watch,
a pre-election claim he seemed to back away from during a televised interview.
"We're allies; we have to consult each other, not have fiats or unilateral imposition, but negotiated peace with our neighbours and support between allies. And America has no greater ally than Israel and Israel has no greater ally than the United States," said Netanyahu on NBC News.
The White House, unmoved by Netanyahu's effort to backtrack, delivered a fresh rebuke against him.
"We'll have to sort of see what sort of policy and priorities the prime minister chooses but we certainly are in a position to evaluate our approach to these issues given that the prime minister essentially backed away from commitments that Israel had previously made to this (peace) effort," said Josh Earnest, White House Press Secretary.
Netanyahu alienated the US administration by accepting an invitation to deliver a speech to Congress.
A two-state solution is a key US foreign policy objective, so the prime minister's pre-election promises drew harsh criticism.
The White House has indicated that the US may reconsider its policy of automatically shielding Israel from international pressure at the United Nations, which has previously blocked Palestinian efforts to get a UN resolution recognising its statehood.