Turkey supports Ukraine, but not at the expense of relations with Russia
Comments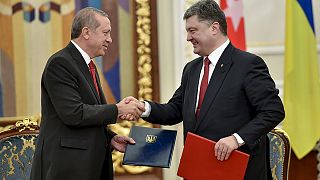 Turkish President Recep Tayyip Erdogan has offered Ukraine a 46.2 million-euro loan to help cover the country's budget deficit.
During a visit to Kyiv, he also called for the rights of the Crimean Tatar Turks to be preserved and pledged 9.2 million euros in humanitarian aid to help ease the situation in Ukraine's war-torn east.
Ukrainian President Petro Poroshenko thanked his Turkish counterpart "for supporting us in our request to establish a UN peacekeeping mission to de-escalate the situation in eastern Ukraine."
Erdogan confirmed his country's support, but did not directly attack Russian President, Vladimir Putin.
"Turkey is taking all necessary measures to maintain peace in the Black Sea region: on the water; in the air; and on the ground. As a NATO member, we are taking all necessary precautions against all threats," said Erdogan.
Russia annexed the Black Sea peninsula of Crimea from Ukraine a year ago. Turks have close bonds with the Turkish-speaking Tatar minority in the region.
However, Ankara also has close trade ties with Moscow. Recent discussions concern a potential deal for Russian energy company Gazprom to construct a gas pipeline – known as the 'Turkish Stream' – under the Turkish-Greek border, bypassing Ukraine.
Despite this, our correspondent, Dmytro Polonsky, believes Erdogan's trip to Kyiv was a positive one:
"Turkey is getting economically closer to Ukraine, while maintaining its territorial integrity. Free trade, strategic partnership and support for the Crimean Tatars were the major issues faced in today's meeting between Kyiv and Ankara. Cooperation is growing every year and the future will show the results," he predicts.