Mississippi lynching? Black man found dead hanging from tree
Comments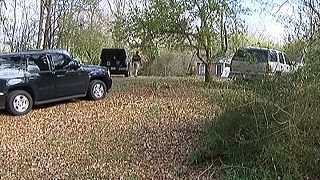 A possible case of lynching that gets national attention in the United States is troubling Mississippi, once a hotbed of racism in the southern part of the country.
Federal authorities are investigating the grisly discovery of a black man found hanging from a tree in the deep woods near the Louisiana border.
Claiborne County Sheriff Marvin Lucas said it remained unclear whether the death was a homicide or a suicide, but he confirmed that the man "had a bed sheet tied around his neck." He said the victim had some sort of cap on his head.
The identity of the man, whose body was badly decomposed, has not yet been officially identified, yet law enforcement officials were searching for Otis Byrd, a 54-year old black man who disappeared on March 2.
But the local chapter of the civil rights group NAACP identified the victim as the man who vanished more than two weeks ago. The group now suspects a Ku Klux Klan-type of murder.
"Considering Mr. Byrd's body was found hanging from a tree, we are calling on federal authorities to immediately investigate to determine whether his death is a result of a racial hate crime", a NAACP spokesman said.
FBI officials confirmed on Thursday night that the agency and the Justice Department are looking into the case, but they stressed that that they were only gathering facts and that no civil rights investigation has been launched at this point.
According to local media reports, the missing man spent just over 25 years in prison for the 1980 murder of a woman in Claiborne County. The records show he robbed her of $101. He was convicted of capital murder in 1980, and was paroled in 2006, a newspaper reported.
Mississippi is widely recognized for having a history of deeply entrenched racism that sometimes can still be seen today.
Last month, a federal judge sentenced three young Mississippi men who lynched a black man they found in a parking lot by beating him and driving a pickup truck over him. During the beating, some of the white teens reported yelled out the words "white power."
Last year, at a flea market, a state judge slapped a 20-year-old, mentally-ill, black man and told him "Run, n***** run."
Mississippi, America's poorest state, is also harshly carceral – jailing more people per capita than almost anywhere in the country, the majority of them black – and has a huge number of all-white private schools while the public school system is largely segregated.