Romania minister Darius Valcov resigns amid corruption probe
Comments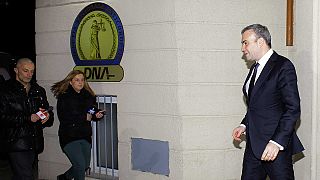 Romania's finance minister resigned after prosecutors began investigating him for corruption, it's emerged.
Prime Minister Victor Ponta confirmed the departure of finance minister Darius Valcov, who is suspected of abuse of power in a former mayoral role.
Anti-corruption prosecutors said on Friday they had begun a probe into Valcov over claims he favoured a company for a public works contract in exchange for about 2 million euros during 2010-2013.
Valcov – the most-senior sitting Romanian politician to resign over accusations of corruption – has denied the allegations.
A report by the European Commission last year said political and petty corruption in Romania was still a "significant problem".
It went on to quote a survey which revealed 93 percent of Romanians agreed corruption was widespread in their country, with 25 percent claiming they had been asked or expected to pay a bribe in the last 12 months, one of the highest figures in the EU.
Romania's president Klaus Iohannis had earlier called for Valcov's resignation, saying his retention would undermine the government's credibility.
"I spoke with Darius Valcov today at lunch and he handed me his resignation," Ponta told television station Romania TV.
Ponta said he had accepted the resignation but gave no further details as to why Valcov had quit.
The investigation is another blow to Ponta, after he was surprisingly defeated in November's presidential election. Ponta's father-in-law and brother-in-law are under criminal investigations in separate cases, according to news agency Reuters.