14 Muslim Brotherhood leaders face death sentence in Egypt
Comments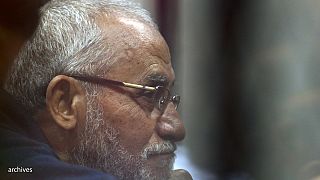 A court in Egypt is seeking the death penalty for the Muslim Brotherhood's top leader Mohamed Badie and 13 other members.
The defendants are charged with inciting chaos and planning attacks on police and army institutions two years ago during a violent dispersal of sit-ins staged by supporters of ousted President Mohamed Morsi.
The court has formally refered the case to the country's highest Islamic legal official, known as the Grand Mufti.
That's the first step in imposing a death sentence.
Death sentences are required to be refered to the Mufti before any execution may take place. Once the court issues a final verdict, and that's set for April 11, the defendants may appeal it.
Morsi, Egypt's first freely elected leader, was forcibly removed from office by President Abdel Fattah al-Sisi when he was army chief, following mass protests against Morsi's rule. Sisi has described the Brotherhood as a major security threat and has designated it a "terrorist group."
The Brotherhood says it is committed to peaceful activism and has nothing to do with recent Islamic militant violence.