Hamilton storms to victory in Australia
Comments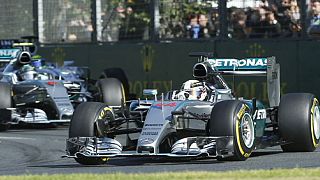 Welcome back to Speed​​, our programme dedicated to the world of motorsport. Formula One's season-opening Australian Grand Prix got underway on Sunday with Mercedes taking advantage of a reduced field to secure the win.
Perfect start
Britain's Lewis Hamilton made the perfect start to his world championship defence with yet another flawless run in Melbourne.
The 30-year-old, who claimed pole in qualifying, led from start to finish to take the chequered flag in rather bizarre circumstances as only 15 cars were able to line up on the grid due to technical failures.
Germany's Nico Rosberg crossed the line 1.3 seconds off the pace to hand Mercedes an impressive one-two finish while Ferrari's improved form was confirmed as new signing Sebastian Vettel completed the podium under the watchful eye of veteran actor Arnold Schwarzenegger.
McLaren fail to deliver
It was a dark day for McLaren, with Jenson Button finishing last of the 11 cars and lapped twice by Hamilton and the leaders while team-mate Kevin Magnussen was unable to start after suffering technical problems on his formation lap.
The Dane driver was standing in for the absent Fernando Alonso, who was forced to watch the season-opening Grand Prix from his home in Spain after doctors advised him to skip the race.
The double World Champion is currently recovering from a concussion suffered during the penultimate testing at Circuit de Catalunya on February 22.
Sir Jack Brabham
Just like Fernando Alonso, Formula One great Sir Jack Brabham also grabbed two consecutive world titles. However, the Australian went on to add a third six years later, en route to becoming one of the most accomplished drivers in the history of the sport.
Over the course of a 15-year Formula One career beginning in 1955, Brabham won three drivers' world championships, becoming the only driver to triumph in a car bearing his name.
The Australian, who was known as 'Black Jack', prevailed in 1959 and 1960 and was 40 when he won the F1 drivers' title in a Brabham, the successful car manufacturer he founded.
Brabham, who passed away at his Gold Coast home last year, was the first driver in history to be knighted for his services to motorsport, receiving the honour in 1979.
Classic Australian Grand Prix
The first Australian Grand Prix was held in Adelaide in 1985. Aussie fans didn't have to wait long to see one of the most memorable races of all time. They were treated to a three-way title fight at the final round of the 1986 season as Nigel Mansell, Nelson Piquet and Alain Prost battled it out in Australia.
With the season drawing to a close, Nigel Mansell, who needed at least third place to beat Alain Prost in the overall standings, looked certain to claim the title but his hopes were eventually dashed when his tyre exploded dramatically in the closing stages.
Prost successfully defended his crown after rival Nelson Piquet was called in for a precautionary pit-stop by Williams following Mansell's tyre failure.
Ferrari's Stefan Johansson had to settle for third place with Martin Brundle just missing out on a podium finish.
Prost wins in Miami
See you on March 29 for another edition of Speed where we will be looking at the Malaysian Grand Prix. In the meantime, we end the programme with some of the best moments from the Formula E Championship with Nicolas Prost, driving for father and four-time World Driving Champion Alain Prost, producing a superb display to clinch stage five in Miami.