47 US Senators may have undermined Iran nuclear talks, says Kerry
Comments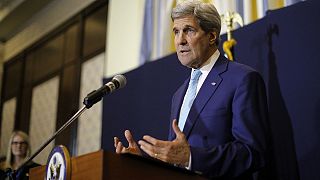 On the eve of fresh nuclear talks with Iran, US Secretary of State John Kerry expressed concern that a letter to Iran last week from 47 Republican senators may have undermined the fragile negotiations. The letter warned Iran that any deal made by President Barack Obama might last only as long as he remained in office.
Critics of the move claim the Senators violated the Logan Act, a 1799 law which forbids unauthorised citizens form negotiating with foreign governments. Violation of the Logan Act is a felony, they say, punishable under US federal law with imprisonment of up to three years.
.GrnEyedMandy</a> be fun watching <a href="https://twitter.com/hashtag/47traitors?src=hash">#47traitors</a> GOP destroy itself if not trying to start WW3&#10;SIGN <a href="https://t.co/iFiE6lqj3D">https://t.co/iFiE6lqj3D</a> <a href="http://t.co/Ju8zjUp4VI">pic.twitter.com/Ju8zjUp4VI</a></p>&mdash; An Angry DEMOCRAT (AngryVoters) March 14, 2015
Over 280,000 people have signed a petition calling on the Obama administration to file charges against the Senators.
Kerry said he would assure Iranian negotiators and Europeans allies during the upcoming talks that Congress did not have the authority to change the deal.
"As far as we're concerned, Congress has no ability to change an executive agreement," Kerry said, adding that "important gaps" still remained between the sides.
The letter followed a speech to Congress earlier this month by Israeli Prime Minister Benjamin Netanyahu, who warned that Obama was negotiating a "bad deal" with Iran. Republicans invited Netanyahu to speak about Iran without consulting the White House or Democrats.
Is the GOP</a> guilty of treason? <a href="http://t.co/ct4B1XOixx">http://t.co/ct4B1XOixx</a> <a href="https://twitter.com/hashtag/47Traitors?src=hash">#47Traitors</a> <a href="http://t.co/W63g5Q16qF">pic.twitter.com/W63g5Q16qF</a></p>&mdash; MintPress News (MintPressNews) March 11, 2015
It's hard to tell whether the US and other world powers would reach a framework deal before the March 31 deadline.
"I can't tell you whether or not we can get a deal, whether we are close," Kerry told a news conference on Saturday in the Red Sea resort of Sharm el-Sheikh, where he attended an Egyptian investment summit.
The United States and five other major powers – Britain, Germany, France, China and Russia – will resume negotiations with Iran in Lausanne, Switzerland, from Sunday (March 15). They hope to clinch a framework agreement by the end of the month.
"The purpose of these negotiations is not just to get a deal, it is to get the right deal," Kerry added.