Video of vicious teenage beating as crowd looks on goes viral in US
Comments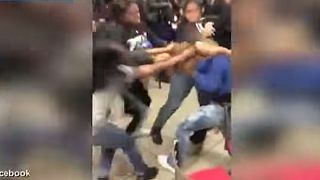 The shocking video of a teenager being savagely beaten up by other teenage girls has gone viral in the United States.
The incident happened in a McDonald's restaurant in a poor and violent neighborhood in Brooklyn, New York last Monday, but only became public days later after the video emerged online, according to US media reports.
The video shows a 15-year-old girl in a blue, hooded sweatshirt fighting another girl before she is set upon by other girls. The group then punches, kicks and drags the teen until she collapses on the floor.
Her attackers repeatedly stomp her head as the crowd cheers and continues to record the fight with mobile devices.
The video of the beating goes on for almost three minutes while nobody in the crowd or of the restaurant management intervenes and comes to the girl's rescue. One bystander can be heard lamenting, "I forgot my phone!"
The last few seconds show a few people trying to help the girl get up and sit down, and someone can be heard yelling, "Go get ice! Go get ice!"
There are conflicting reports as to whether someone called the police. A spokesman of the New York Police Department (NYPD) said they were unaware of the incident until they saw it online.
However, the franchisee of the McDonald's where the incident occurred released a statement saying that some of his employees called 911, the emergency phone number in the US. "The safety of my employees and customers is my top priority", he said.
Police did not identify the victim's name, adding that the girl and her mother have not cooperated with authorities. That could mean the incident was gang-related, sources say.
The 15-year-old high school student was discharged from a hospital later Monday night but returned Wednesday night because she blacked out, possibly from concussion aftereffects, according to media reports.
On Facebook and on YouTube, the beating has become legend online. Many people showed support, while others urged her to press charges to keep someone from suffering a similar beating in the future.