Steinmeier: Minsk process no guarantee for success but without alternative
Comments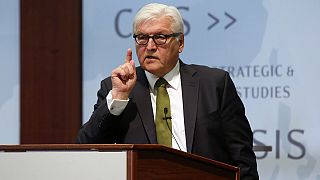 The Minsk process to find a diplomatic solution to the crisis in Ukraine, engineered by France and Germany, is no guarantee for success, according to German Foreign Minister Frank-Walter Steinmeier, but "there is no better alternative".
"We may well fail", Steinmeier said during a three-day trip to Washington. "But any other alternative may not be successful either", Steinmeier added. "It is even more likely that any path other than a diplomatic one will also fail."
An escalation of the conflict that has already caused 6000 deaths would only lead to more bloodshed, Steinmeier said, indirectly rejecting calls to arm Ukraine with lethal weapons.
Speaking at the Center for Strategic and International Studies (CSIS), an influential think tank, Steinmeier reiterated his warning to Russia against further escalation in the Ukraine conflict.
A rebel attack on the port city of Mariupol would be a clear violation of the internationally brokered Mink agreement, Steinmeier said.
Nonetheless, the German Foreign Minister urged "strategic patience" in dealing with Russia. "We must look beyond the conflict and build our future relations with Russia", he said. "That will be a most delicate task."
In the light of game-changing global crises like Ukraine, radical jihadism and a nuclear Iran, Steinmeier called for firm transatlantic unity. "We are stronger when we stand together", he said.
Steinmeier also weighed in on the fierce debate in the US over the international nuclear talks with Iran.
He criticized 47 Republican senators for sending a letter to Iran over the nuclear talks, fearing that the political stunt could undermine Tehran's confidence in the ongoing negotiations.
"This is not just an issue of American domestic politics, but it affects the negotiations we are holding," Steinmeier said. "Obviously, mistrust is growing on the Iranian side if we are really serious with the negotiations."
In the letter to Iran's leaders, the Republicans had warned that any deal agreed before US President Barack Obama leaves office in 2017 is "nothing more than an executive agreement" that could be struck down by Congress later – a notion that has been rejected by the Obama administration and constitutional law scholars.