The Apple smartwatch: Only time will tell if it is a winner
Comments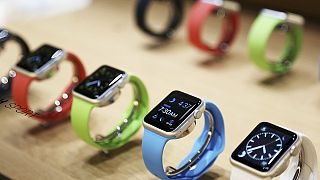 With 38 models and a myriad of colours, Apple has launched its smartwatch to huge fanfare. The price will range from $349 to $17,000 (325 euros to 16,000 euros), depending on if you have a desire for a timepiece made of 18-carat gold.
The watch will be able to go 18 hours without a charge. In addition it has a Power Reserve facility that will allow it to continue for another 72 hours after other functions are turned off.
But reaction has been mixed to Apple's new edition.
"Apple will unquestionably sell millions of these watches because there's pent-up demand from the loyal super-fans who will buy almost any Apple product," Ben Wood from the tech advisory firm CCS Insight told the BBC.
Neil Mawston of research firm Strategy Analytics predicted that the software firm would shift 15m units by the end of the year. But he told the Guardian that the watch was less attractive than rival models, such as the Huawei smartwatch.
What time is it? Oh dear...looks like the battery ran out. #applewatch - the future! pic.twitter.com/TtmwrRj5Lp

— Citigolf (@Citigolfbelfast) 10 Marzo 2015
เออจริงงง 555555 "@MartinGsq: Why spend $349-$10,000 on an #AppleWatch when you can do this? #wearabletechpic.twitter.com/Z79t16Nm1w"

— F (@Nakarinseehanam) 10 Marzo 2015
Was totally gonna buy an Apple WATCH Edition, but I think now I'm just gonna buy 7 new gold MacBooks and wear them as a necklace.

— THE Lance Arthur (@thelancearthur) March 9, 2015
Techradar posed the question: a daily charge for a watch that starts at $349?
"That's not enough, let's be honest, and especially not for the money being charged."
It added that this is phase one of a much longer product game – but the Apple Watch One is a quite good start.
CNET said there are plenty of big, unanswered questions, such as can the interface work without being confusing? It went on to say there were a lot of taps, swipes, turns and twists involved in the Apple Watch. Nested apps and glanceable apps and double-clicks could confuse a lot of people. It's advanced stuff.
Gizmodo made light of the Apple watch with a headline that said: "Apple Watch to Hit British Wrists on April 24 With a Battery That Lasts 'All Day'." It did point out that audio playback or talk test time reduced the battery life down to between three and six hours

Apple Watch will offer the right blend of technology and luxury http://t.co/cvEmiu3M2bpic.twitter.com/1vOTxtojep

— The Jakarta Globe (@thejakartaglobe) March 10, 2015