Pioneering filmmaker Albert Maysles dies at 88
Comments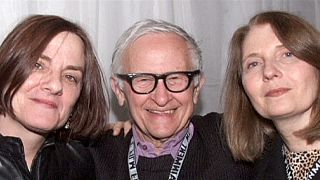 Pioneering American documentary filmmaker Albert Maysles has died aged 88 after battling with cancer.
The closer I adhere to reality the more honest and authentic my tales. It's my way of making the world a better place.
Best known for working alongside his brother on 'Salesman', 'Grey Gardens' and 'Gimme Shelter' he was famous for his compassionate portraits, saying it was his way of making the world a better place.
Bio
Though he is credited with revolutionising documentary cinema being labeled 'the best American cameraman' by Jean-Luc Goddard, he began his career as a psychiatrist. He taught psychology at Boston University in the 1950s. It led him to his first film project; documenting mental institutions in Soviet Russia with the film 'Psychiatry in Russia'.
His breakthrough in film came with 'Salesman', made with his brother David, it gave a glimpse into the life of door-to-door Bible sellers. Their next hit came in the form of a music documentary following the Rolling Stones on a tour across America which ended in drama. The death of Meredith Hunter killed by Hells Angels who were charged with security at a free gig in San Francisco, became an iconic souvenir of the end of the late sixties airy freedoms.
It was their 1975 film 'Grey Gardens' which made the Maysles into cult cinema icons, and it all happened by chance. While making a film about Jacqueline Kennedy's younger sister they met Edith Bouvier, Onassis' cousin and her mother in Long Island. That meeting made the Maysles change course, scrapping the original film in favour of documenting the eccentric lives of 'Big Edie' and 'Little Edie'.
After his brother died in 1987 he continued to make movies and became a regular on the film circuit giving talks about documentary filmmaking. His final film 'Iris' about 93-year-old fashion icon Iris Apfel is scheduled for release later this year.
Tributes
Indiewire was overwhelmed by responses when it asked the film community to honour the late filmmaker.
Robert Duvall said, "Albert was a genius of the documentary film world. He was a kind and generous friend. He left us with a great legacy and among the best documentaries that will ever be seen. He will be missed."
American actress Mia Farrow
led the tributes on Twitter and was joined by 'Hobbit' star Elijah Wood.
The great documentarian Albert Maysles, has died. Do watch some favorite moments from Grey Gardens - VIDEO http://t.co/m6duSvS96G

— mia farrow (@MiaFarrow) March 6, 2015
So long, Albert Maysles. You left a legacy that will influence into the beyond

— Elijah Wood (@woodelijah) March 6, 2015
A look back at his work
Psychiatry in Russia
Salesman
Grey Gardens
Gimme Shelter