UN Security Council slams use of chlorine weapons in Syria
Comments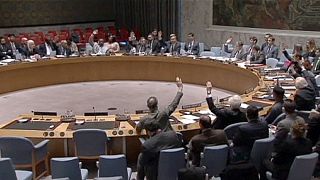 The United Nations Security Council has approved a resolution condemning the use of chlorine as a weapon in the Syrian war.
It calls for repercussions – which under the UN charter could mean economic sanctions or force – if such arms are used again.
The US-drafted resolution did not apportion blame, enabling 14 members – including Syria's ally Russia – to vote in favour.
Britain, France and the US accuse the Syrian government of using chlorine gas.
"Despite having acceded to the Chemical Weapons Convention, the Assad regime has again demonstrated its brutality by turning to chlorine as another barbaric weapon in its arsenal against the Syrian people," said the US ambassador to the UN, Samantha Power.
Venezuela abstained, saying the council should wait until an investigation into the use of chlorine was complete.
There was an angry reaction from the Syrian government. Its UN ambassador said Damascus had nothing to hide.
"So this is a big lie to accuse the Syrian government so horrible, so atrocious, so condemnable such as the use of the chemical weapons and the use of the chlorine gas," Bashar Ja'afari told reporters.
Chlorine gas has been "systematically and repeatedly" used as a weapon in Syria, according to the Organisation for the Prohibition of Chemical Weapons (OPCW).
In February the OPCW condemned the use of chlorine in Syria as a breach of international law.
After hundreds of people were killed in a sarin gas attack, Damascus agreed to destroy its chemical weapons in 2013, under a deal brokered with the US and Russia.