China's People's Congress meets to decide on economic reboot
Comments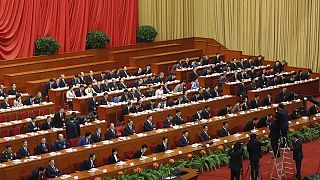 The annual National People's Congress has begun work in Beijing with the ruling Communist party grappling with China's lowest growth rate in a quarter-century.
Two thousand nine hundred members are expected to rubber stamp plans to rebalance the economy and restore dynamism. While China may appear to be leaping ahead of the rest of the world, the leadership fears it is running to stand still, and reforms are needed.
"Deep-seated problems in the country's economic development are becoming more obvious. The difficulties we are facing this year could be bigger than last year. The new year is a crucial year for deepening all-round reforms," said Prime Minister Li Keqiang.
Bringing to heel runaway monopolies that straddle the public and private sectors, and opening up the banking and finance systems are seen as crucial in the face of falling foreign investment and demand.
2015's other priority is pollution, and the often-linked problem of corruption. Zero tolerance has been announced for those found guilty of corruption and damaging the environment, as these two factors are publically sensitive and thought to be among the prime drivers of social unrest.
Beijing is looking for the magic formula for more sustainable growth because one of the prime economic motors, the building sector, has overheated.
Entire new cities lie empty, like Tianjin's Binhai special economic zone. This was a mini-Manhattan built north-east of Beijing for companies and workers who never came as investors' ardour cooled and skyscrapers were left unfinished.
"I don't think the lower growth rate of China's economy is frightening. The point is whether China is able to realise a successful economic transition and industrial upgrade, and whether China can embark on the track of technical and system innovations. I'm not optimistic about the latter," says the Beijing Institute of technology's Professor Hu Xingdou.
New growth motors around high-technology and innovative industries are what the government wants; fewer cheap goods and more value-added, high-end products, less quantity and more quality. If this is achieved at the cost of slower overall growth, so be it, runs the thinking.
The risk is that this path may lead to higher unemployment, the level of which is already contributing to popular dissatisfaction.