'Peed off' locals bid to flush out Hamburg's wee problem
Comments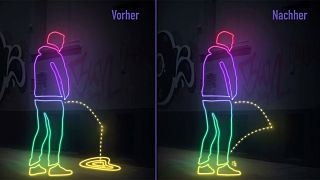 Locals in Hamburg's party district have launched a bid to flush away the problem of late-night revellers urinating in the street.
They have covered parts of regularly-targeted buildings with a special paint, which directs the spray back to its source.
The local interest group, in a video posted to YouTube, said: "We are not only making our message clear, but making sure it reaches our target audience."
Signs reading "Do not pee here! We pee back!" have been posted around the St Pauli district, which claims to attract 20-million visitors a year.
Julia Staron, who organised the group, told Reuters: "This paint job sends a direct message back to perpetrators that their wild urinating on this wall is not welcome.
"The paint protects the buildings and the residents and most importantly it sends a signal this behaviour is not on."
The special hydrophobe paint is, however, expensive.
Staron said it costs about 500 euros to paint a six-square metre area, but it was worth the effort and was already having a positive effect on newly-protected walls.
"If you compare the work involved for daily cleaning of the mess and the awful smell, as well as all the collateral damage involved, it has definitely been well worth it," she said.
Staron said her community group came up with the idea after realising conventional methods were not having the desired effect.
Watch the video