Australian drug smugglers Chan and Sukumaran moved to 'Indonesia's Alcatraz'
Comments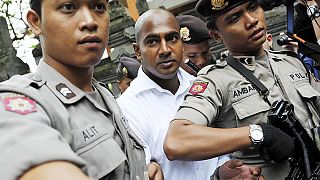 It's known as Indonesia's Alcatraz: Nusakambangan island is where convicted drug smugglers Andrew Chan and Myuran Sukumaran are expected to face a firing squad.
I am sure that Indonesia understands it will have consequences.
The two Australians have been transferred to the island in an armoured personnel carrier. A helicopter also flew overhead – a sign Indonesian authorities were expecting further protests, after nearly ten years of appeals against the men's sentences.
In 2005, the Australians were found guilty of leading a trafficking ring known as the Bali 9. They had been caught in Bali, trying to smuggle 8.3kg of heroin back to Australia. They were handed the death penalty in 2006 and, despite repeated appeals for clemency, the Indonesian courts have never wavered.
Both men admit to their involvement in drug smuggling, but insist they are reformed characters. Their claims are supported by Australia's Foreign Affairs Minister Julie Bishop, who says:
"We will continue to appeal to (Indonesian) President Widodo's strength and his humanity to show mercy and forgiveness for these two Australian men who have undergone this remarkable rehabilitation."
Chan reportedly taught Bible and cookery classes in jail and Sukumaran has taken up art.
The other members of the Bali 9 are serving sentences of between 20 years and life. Some members of the group successfully appealed earlier death sentences.
Indonesian attorney general Muhammad Prasetyo is expected to confirm the date and time of the executions on Friday, March 6. Local law states he must give the prisoners 72 hours' notice of their execution.
Praseyto confirmed that all those facing the firing squad had not yet been transferred to the island.
The Australian government says it was not informed of the transfer and warned there could be repercussions if the men are killed.
"I am sure that Indonesia understands it will have consequences," Bishop told Australia's Channel Nine.
Tony Abbott made a statement shortly after the transfer took place:
"We abhor drug crime, but we abhor the death penalty. We think that these two Australians deserve to be punished, but they certainly don't deserve to be executed, and that is our position," he said. "I think, right now, millions of Australians are feeling sick in their guts at the prospect of execution for these two."
Chan and Sukumara's families are said to be making the journey to Nusakambangan, where they will be allowed to visit the men until a few hours before the executions, when they will be taken to an isolation cell.
Prasetyo said each of the prisoners would face a 12-person firing squad, only three of whom would be using live ammunition. According to Australia's The Age, "A commando will also be present, who will shoot the men in the head if they are not dead after 10 minutes."
Indonesia claims its hard stance on drug traffickers is necessary.
"We want to show the world that Indonesia is truly trying hard to fight drugs," Prasetyo said.
The Indonesian ambassador to Australia supported the position. Speaking from Perth, Nadjib Kesoema said that, while it was a sad situation for the men and their families, Indonesia is fighting a "chronic drug problem." He added that 1,500 Indonesians die each month as a result of drug abuse.