Moscow funeral: "The shots were fired not only at Nemtsov but at democracy in Russia"
Comments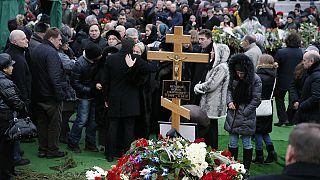 Thousands of friends, family and supporters of Boris Nemtsov have paid their last respects at his funeral.
The ceremony for the opposition figure and former deputy prime minister has been held in Moscow, four days after he was gunned down near the Kremlin.
One of those gathered, teacher Svetlana Sorokina, said: "His death is a tragedy for all of us; he was one of the bright people leading the movement of those who don't agree with Putin's politics. This is of course bad."
Marsel Shamsudinov, an acquaintance of Nemtsov from the city of Kazan, said: "His death has woken up those who are capable of thinking. It's shown them that this can't be accepted. We should fight, organise ourselves. We should change all of this."
The murder has left the opposition in shock and many fear they will never learn the truth about what happened.
Nemtsov was an outspoken critic of Vladimir Putin and recently slammed the war in Ukraine as Russian aggression.
Next to the coffin, another prominent Kremlin critic, Gennady Gudkov, said: "The shots were fired not only at Nemtsov but at democracy in Russia."
The government was represented by two deputy prime ministers.
Nemtsov's mother and his former partner were there, but the girlfriend who was with him when he was shot was not.
Also present were several figures who served with Nemtsov under former President Boris Yeltsin. The widow of Yeltsin was also there.
It is also reported that two EU dignitaries were refused entry to Russia for the funeral: former Latvian foreign minister Sandra Kalniete and Polish parliamentary speaker Bogdan Borusewicz.
Also absent was another prominent Kremlin critic who tried to get permission to attend from jail, Alexei Navalny.
He said a court rejected his request for day release.
For hours people filed past Nemtsov's coffin in a human rights centre named after the Soviet dissident Andrei Sakharov.
Later the burial took place at the Troyekurovskoye cemetery on the outkirts of Moscow.
This is where the murdered investigative reporter and Kremlin critic Anna Politkovskaya is also buried.
Sir John Major to represent UK at Boris #Nemtsov's memorial, over 20 years after they met here in Nizhny Novgorod pic.twitter.com/Dva9BH2sK6

— UK Prime Minister (@Number10gov) March 3, 2015
Alexei Navalny, the nearest Russia has to a leader of the opposition, has written powerful blog on death of #Nemstovhttp://t.co/GNToCbCxMH

— James Mates (@jamesmatesitv) March 3, 2015
Thousands pay last respects to slain Putin critic http://t.co/9Ybjvqlxzzpic.twitter.com/WmYbxHmH3R

— Agence France-Presse (@AFP) March 3, 2015
Emotional scenes as Nemtsov hearse leaves for cemetery to cries of "Heroes never die!" pic.twitter.com/skuOJ2g6fQ

— Tom Parfitt (@parfitt_tom) March 3, 2015
Pres. Obama: "We call upon the Russian gov't to conduct a prompt, impartial and transparent investigation" #Nemstovpic.twitter.com/McgpKANQ2B

— Andrew Peng (@TheAPJournalist) February 28, 2015
#Russia bars two EU politicians from #BorisNemtsov funeral http://t.co/B2lI5I6NYt

— louis charbonneau (@lou_reuters) March 3, 2015
Russian media outlets providing increasingly odd scenarios behind the death of the opposition leader Nemtsov— http://t.co/HSrHm40vZa

— Newsweek (@Newsweek) March 3, 2015