McLaren medics rule Alonso out of F1 season opener in Melbourne
Comments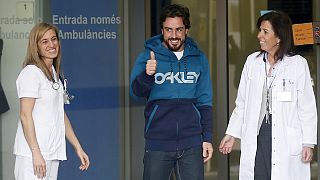 Fernando Alonso is to miss the F1 season opener in Australia on medical advice.
The Spaniard crashed his McLaren at 215km/h while testing in Barcelona on February 22.
The former world champion smashed into a wall and suffered two impacts to his head.
He was immediately airlifted to hospital where he was kept under observation for three days.
His medical team say after a series of scans Alonso has no "medical issues" and is in a good state of health.
However, doctors want to avoid the risk of Alonso crashing again in Melbourne, they say that two concussions in quick succession can lead to an increase in inter-cranial pressure, a chance of coma or even death.
The McLaren reserve driver Kevin Magnussen will take his seat behind the wheel for the first race on the calender.