USA: Los Angeles police shoot homeless man dead
Comments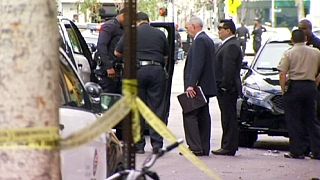 Officers from the Los Angeles Police Department (LAPD) have shot and killed a homeless man during a confrontation in the Skid Row area of the city.
Police say they were responding to reports of a robbery. They approached a suspect who, according to officials, immediately began fighting them off. One of the officers lost his gun during the struggle.
"During that altercation at least one less-than-lethal device, a taser, was deployed," explained LAPD's Sergeant Barry Montgomery. "However at this time we still do not know if the taser did strike the suspect. After that the struggle continued and an officer-involved shooting occured."
An officer involved shooting occurred today when #LAPD Officers responded to a radio call of a robbery in @LAPDCentralArea.

— LAPD HQ (@LAPDHQ) March 2, 2015
During the events of the radio call of a robbery, #lapd officers made contact with a suspect who immediately began fighting officers

— LAPD HQ (@LAPDHQ) March 2, 2015
#lapd officers attempted to use a #TASER to subdue suspect but suspect continued fighting and resisting. Suspect fell to the ground...

— LAPD HQ (@LAPDHQ) March 2, 2015
While on the ground,suspect and #lapd officers struggled over one of officer's handgun at which point an officer involved shooting occurred

— LAPD HQ (@LAPDHQ) March 2, 2015
"About five officers wrestled him down to the ground, he managed to get up," said an unidentified witness." They took him down again, then they beat him while he was on the ground. Next thing I knew heard one shot. Then I looked over across the street. I (saw) three more shots being fired at the guy. He was laying down on the ground."
Other witnesses say the man had reached for one of the officer's guns. One said he heard an officer saying "He's got my gun."
A video of the incident was posted online and shows one of the officers dropping his asp on the ground as he attempted to control the suspect. A female bystander grabbed the asp. Two officers are then seen leaving the altercation with the male suspect to retrieve the asp from the bystander before shots are heard.
The man was declared dead shortly after the shooting.
He has not been officially identified.
Protesters say the man who was shot was known as "Africa" and known to be mentally ill. #SkidRow#OIS#LAPDpic.twitter.com/8e0XlATitC

— Gadi Schwartz (@GadiNBCLA) March 2, 2015