Turkey: Thousands turn out for funeral of writer Yasar Kemal
Comments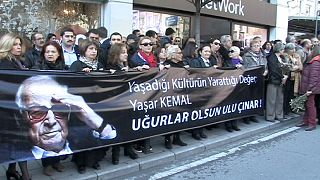 Thousands gathered in Istanbul on Monday to say a final farewell to Yasar Kemal, one of Turkey's best-known writers.
The works of the 91-year-old novelist who died on Saturday celebrated the lives of the downtrodden.
But Turkey's great and good were among those paying their last respects, including ex-President Abdullah Gul.
An ethnic Kurd, Kamal's writings were translated into 40 languages.
"We have very few internationally well-known figures unfortunately," said Can Dündar, Editor in Chief of Turkey's Cumhuriyet newsaper.
"We have lost the most important of them. But we are happy to have lived at the same time and in the same land as him. We are proud of that fact."
Kemal's defence of minorities, notably Kurds, brought him into conflict with Turkish authorities. In 1995 he was prosecuted on charges of separatist propaganda for his support of Kurdish dissidents and received a suspended sentence.
"The master of literature, Yasar Kemal was able to bring very different segments of Turkish society together at his funeral," said Bora Bayraktar, euronews correspondent in Istanbul.
"Politicians, artists and many others came to Istanbul's Teşvikiye mosque to say goodbye. From now on, the great author will live on in his books."