Skydiver has lucky escape after seizure at 9,000 feet
Comments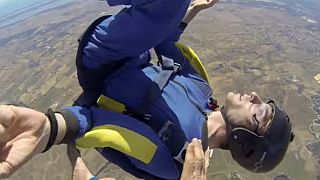 This is the moment an Australian skydiver has a near death experience.
While taking part in stage five of his Accelerated Free Fall programme over Perth he has a seizure at 9,000ft (2,700m).
"Possibly the scariest moment of my life," says Christopher, the skydiver, who posted his video online. "At around 9000ft I have a seizure while attempting a left hand turn. I then spend the next 30 seconds in free fall unconscious."
Luckily for him the jumpmaster, who is filming, notices something wrong, comes to his aid and opens his parachute.
"Thankfully my jumpmaster manages to pull my ripcord at around 4,000ft," wrote Christopher. "I become conscious at 3,000ft and land safely back to the ground."