Jailed Kurdish leader calls for PKK to disarm
Comments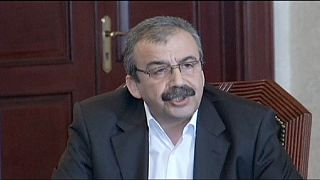 Jailed Kurdish militant leader Abdullah Ocalan has called on his followers to lay down their arms, in a step towards ending the 30 year-old insurgency in Turkey.
The statement was read out by another PKK member calling on Kurdish rebels to hold a congress on disarmament in the spring. It marked the first time a message by Ocalan was read out in front of Turkish government officials.
"We are in the process of ending the 30-year of conflict in the form of a perpetual peace, and our primary goal is to reach a democratic solution. "This is a historic call to replace armed struggle with democratic politics," the statement read. It is being seen as one of the most significant steps towards peace since the 2013 ceasefire.
Turkish President Recep Tayyip Erdogan welcomed the decision as 'very important' but warned that earlier calls by the Kurdish rebels had failed to end the fighting.
The statements come ahead of a parliamentary elections in June, where Erodogan's AKP party is hoping to win the support of the country's 15 million Kurds.
The residents of Diyarbakir, the largest Kurdish-majority city in Turkey, welcomed the news.
"We are very happy with this statement," said one resident adding,"After 30 years of bloodshed. Enough is enough. People want peace."
Another resident said, "I believe that both sides are sincere."
Another man said, "It would be so nice if arms would be laid down, peace would prevail and everybody would live in peace and job opportunities would be created."
The news comes amid talks on a contentious security bill which would give police more powers to crack down on protests. If passed it could destabilise the already fragile peace process with the PKK which is listed as a terrorist organisation by Turkey and its western allies.
The insurgency has claimed more than 40,000 lives, mostly Kurdish, since 1984. Although many attacks have taken place across Turkey, they have been mainly focused towards the southeast. The first ceasefire occurred in 1999 before being broken in 2004 when the PKK announced an end to the truce. In 2013 Ocalan announced a new ceasefire.
The conflict in Syria and Iraq against ISIL has complicated the peace process with protests erupting over Turkey's perceived inaction over the battle in Kobani as Kurdish fighters fought off the Islamist insurgents. Sporadic protests erupted which also threatened to derail the peace talks.