Communist Cuba can't wait to end US embargo squeeze
Comments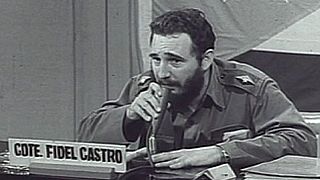 Young Cubans last December [2014] greeted the leap in relations between their island and the United States with joy. Diplomatic relations were to be re-established after a 50-year interruption. To cries of 'with you forever, Fidel,' students marched with hope for a future quite different from what their parents experienced.
A guerrilla army with Fidel Castro at its head drove dictator Fulgencio Batista from power in 1959. The communist takeover swiftly destroyed ties with the US as American companies were expropriated.
Washington decided to remove Castro by force. On 17th April, 1961, 1,500 Cuban exiles took part in the disastrous Bay of Pigs assault, conceived under Eisenhower, CIA-funded and launched by Kennedy. The US thought that, once ashore, others against Castro would boost attack strength. But Castro got wind of the plan and wrapped the whole thing up within days, with 118 attackers killed, 1,200 taken prisoner, and a relatively light death toll of 176 defenders.
The Cold War climate cemented US-Cuba enmity, and in February 1962, spy planes spotted Soviet ballistic nuclear weapon silos in Cuba. The world came to the brink of nuclear war. Kennedy ordered a naval blockade and with Khrushchev in the Kremlin negotiated a military non-intervention standdown. The historic embargo on trade endures to this day.
Moscow stepped in to subsidise almost all of Communist Cuba's economy, as the only Marxist nation in the Western Hemisphere. When the USSR dissolved in 1991, Havana had nowhere like it to turn to. The economic implosion sucked standards of living dry.
Ordinary Cubans built rafts to escape illegally to Florida — also the Bahamas and Caymans, but mostly to the US, whose Coast Guard intercepted tens of thousands, the peak in 1994. One of those who drowned was the mother of little Elian Gonzalez, in 2000. Like many, he was sent back, while others were allowed to stay in the US.
Signs of an easing of tensions and restrictions continued, however, until, notably, President Obama and Fidel's brother-successor Raul shook hands symbolically at the funeral of Nelson Mandela in 2013 in Soweto.
It was seen as encouragement that what some critics called a hypocritical superpower's punishment of the small island for defying it for so long might not last forever.