ISIL arrests: Three men charged in New York
Comments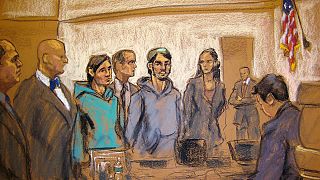 In the US, three men have been charged with conspiring to support Islamic State militants.
Prosecutors say two of them planned to travel to Syria to fight on behalf of the jihadist group. The third man is accused of helping fund their efforts.
But Adam Perlmutter, the lawyer for one of the men,accused authorities of rushing to prosecute them:
"They are very ham-fisted tactics. There is no attempt to intervene, to speak, to explore, to understand. There's just the rush to prosecution, to arrest and to conviction. And I just remind everyone today that the presumption of innocent is still the law of the land in America," he said.
One of the men, from Kazakhstan, was arrested on Wednesday attempting to board a flight from New York's JFK airport to Turkey.
Another, from Uzbekistan, had previously bought an air ticket to Istanbul.
One of the men had previously told police of his support for ISIL.