Volvo Ocean Race: Dongfeng lead the chase for leg four honours
Comments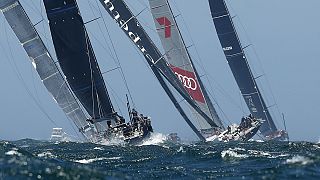 Once again the Volvo Ocean race is dishing up a tight battle within the remaining six-boat fleet.
Leg four started in Sanya in China and will finish in Auckland New Zealand.
With about 1300 nautical miles to go there is roughly 20 nautical miles separating the entire fleet.
Despite suffering problems with their mast last week – overall race leaders DongFeng of China has regained the lead – albeit a narrow one as Mapfre and Abu Dhabi Racing are snapping at their stern.
The all-female crew of SCA are currently bringing up the rear – although that could all change quickly as this demanding race has proven all too often.
The fleet, which is making good speed, is expected to arrive at its Auckland destination by the weekend (Feb 28).