Tony Abbott pushes for tighter immigration in Sydney siege report
Comments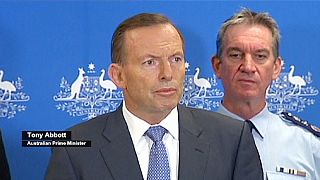 Almost ten weeks after two hostages and gunman Man Haron Monis were killed in a siege on a Sydney café, Australian Prime Minister Tony Abbott has hinted at tighter immigration laws.
Following the release of the government's first report into the attack, the leader laid blame at the door of the country's legal system.
"Plainly, this monster should not have been in our community. He shouldn't have been allowed into the country. He shouldn't have been out on bail. He shouldn't have been with a gun and he shouldn't have become radicalised. Plainly, all of these things should not have happened.
He said legislation had "let the country down" by failing to realise hostage-taker Man Haron Monis was dangerous.
Members of the public made 18 phone calls over the nature of his Facebook posts in the week preceding the siege, but agencies found he was not an imminent threat.
Haron Monis travelled to Australia in 1996 and sought asylum a month later, after which he was granted citizenship.
On bail on a murder charge at the time of the siege, he had also attempted to align himself with the Islamic State militant group.
Between 2008 and 2014, the hostage-taker was also the subject of several counter terrorism discussions, the report revealed.
It found decisions made regarding Haron Monis were reasonable under current laws, but recommended changes to conditions for immigration, citizenship and bail.
The Prime Minister is expected to announce immigration and welfare curbs in a national security report, due to be released on February 23, 2015.