Is the EU's 'big data' effective in fighting terror?
Comments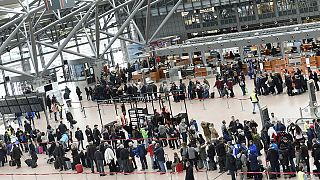 After the recent attacks in Paris and Copenhagen, Europe has become once again a target for terrorism.
The big question for European governments is how they can fight these threats whilst protecting fundamental freedoms.
It is a key issue for major capitals as foreign fighters try to return to Europe from Syria and Iraq.
Parliamentarians have been looking at what data could be collected and shared to tackle such security threats.
Some say the EU's travel rules may need to change.The rules, known as the Schengen agreement, allow EU citizens to travel through twenty six countries without visa or passport checks.
Euronews visited an EU data centre in Strasbourg, France to see how member countries of the 'borderless' travel zone cooperate.
"What we did after the attacks in Paris was that we intensify the monitoring of the system, make sure that our systems are available to member states in Europe," said Stephane Brandes, head of operations and infrastructure at the EU's cross-border IT agency.
When the so-called Schengen Information System was introduced in 1995, critics described it as the EU's 'Big Brother' agency – a reference to the fictional character in the George Orwell novel 1984.
Today, the database has roughly 57 million entries and to maintain and distribute information on wanted or missing persons and objects.
The idea is to make easier for police and judicial authorities to fight crime across Europe.
For example, if a stolen car is flagged up in a country that has signed up to the Schengen information system, this information is made available across the whole area five minutes later.
But does this huge system really help fight crime across Europe?
Bernard Kirch, Head of Operation Department at the agency, known as EU-LISA, said: "When you look at the stats from 2013, we see that 80,000 people or objects were arrested or identified thanks to this system."
So as MEPs and government debate how to toughen up the Schengen rules, it comes down to how the zone's members are able to cooperate and work together.
Sergio Carrera of the Centre for European Policy Studies, however, sounds a word of warning on gathering masses of data.
"Here the EU could contribute and support member states by saying less is more," Carrera told euronews.
"Less data is more in law enforcement. Massive amounts of information about everyone, about every single person, is not useful. What the police and intelligence, especially the police authorities, need is accurate data. Quality data that meets the standards of evidence or criminal procedures."