Obama urges tech firms to cooperate in tackling cybersecurity threats
Comments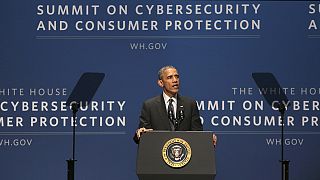 Seeking to combat the terror threat, hackers and spies, President Barack Obama has signed an executive order encouraging tech firms to share data on cyber attacks with each other and the US government.
Speaking at a cybersecurity summit
hosted by the White House at Stanford University, California, Obama told Silicon Valley and financial services CEOs that they needed to cooperate to tackle the threats being faced.
"So much of our computer networks and critical infrastructure are in the private sector which means government cannot do this alone," Obama said.
"But the fact is that the private sector can't do it alone either because it's government that
often has the latest information on new threats."
Unlike his counterparts at Google, Facebook, and Yahoo who stayed away from Friday's
summit, Apple's Chief Executive Tim Cook did turn up – with this reassurance for customers.
"We have a straightforward business model that's based on selling the best products and
services in the world — not on selling your personal data."
Cook warned about unspecified threats to privacy.
"We still live in a world where not all people are treated equally. Too many people are not free to practice their religion, or speak their mind, or love who they choose," Cook said.
"If those of us in positions of responsibility fail to do everything in our power to protect the right to privacy, we risk far more than money … we risk our way of life."
Tech giants are still smarting over damage to their businesses after former National Security Agency contractor Edward Snowden exposed government surveillance practices.
But the Obama administration is keen to mend fences after high-profile attacks on firms
like Sony that exposed weaknesses in America's cyber defences.
The Sony attack was particularly worrying for US officials, who blamed North Korea for stealing data, debilitating computers and pressuring the studio to halt the release of "The Interview," a satirical film about leader Kim Jong-un.
Obama's executive order is one step in a long effort to make companies as well as privacy and consumer advocates more comfortable with proposed legislation that would offer firms protection from being sued for handing over customer information to the government.