Migrants reach Lampedusa after rescue operation saves 700
Comments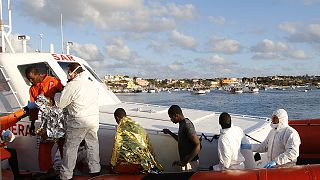 Thousands have died crossing the sea from North Africa.
Early on Saturday morning, one group of migrants made it to shore in Europe and the tiny Italian island of Lampedusa – but only after being plucked from their overcrowded boats with hundreds of others seeking safety and a better life.
Two commercial ships and an Italian coastguard vessel rescued all 700 migrants
near the Libyan coast on Friday.
"All of those rescued appear to be in good shape and the sea conditions are good and getting better," a coastguard spokesman said.
Just days earlier more than 300 people perished trying to make the crossing in stormy seas.
The coastguard said the weather had improved since the start of the week, opening the way for migrant boats to set off again from Libya, where the breakdown in law and order has allowed people-smugglers free rein.
Italy shut down its Mare Nostrum search-and-rescue operation last October and it has been replaced by a more limited EU border control mission, Triton.
The UN refugee organisation UNHCR says at least 218,000 migrants crossed the Mediterranean by boat last year and 3,500 lives were lost.
This week's deaths have renewed focus on the European Union mission. Unlike its predecessor, Triton does not have a specific search-and-rescue mandate, and limits its border control operations to the waters near the Italian coast.