Turkey education strike against rise of Islamic teaching
Comments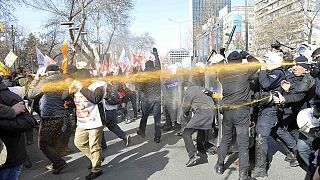 Turkish police used water cannon in the western city of Izmir on Friday to disperse hundreds of students and teachers boycotting schools. They were protesting against the growing influence of religion in the classroom.
Thousands more marched in several Turkish cities to demand a secular and science-based education system.
Video (by known source) of riot police charging #13SubattaBoykottayız school boycott against religion in education https://t.co/krt83f6dks

— reported.ly (@reportedly) February 13, 2015
Turkey has long enshrined the secular ideals of founding father Mustafa Kemal Ataturk, and that has been seen in particular in an educational system in which Islamic headscarves were, until recently banned in schools. Schoolchildren began the day reciting an oath of allegiance to Ataturk's legacy.
Now proponents of Turkey's secular traditions claim President Recep Tayyip Erdogan is overturning that legacy by building a more Islam-focused education system to realise his stated goal of raising "pious generations" – a movement they say is trickling down to school administrations that are imposing more religious education.
One critic of the developments is Pastor Ahmet Guvener.
He managed to get his daughter, a Christian, an exemption from mandatory religious classes in her Turkish school.
But he soon found that the 17-year-old wasn't really off the hook.
As an alternative to the classes at her school in Diyarbakir, in southeast Turkey, she would have to choose from three electives: the life of the Prophet Muhammad, the Quran or basic religious knowledge – or fail the year.
The ruling Islamic-rooted Justice and Development Party, or AK Party, insists it is simply heeding the demands of a conservative and pious majority.
It says the education measures aim to undo restrictions on religious education that were imposed following Turkey's so-called "soft military coup" of 1997, when the then-powerful military – which saw itself as the guardian of Ataturk's secular principles – pressured an Islamic-led government out of power and moved to close down vocational religious middle schools.
"By injecting religion into education, the ruling (AK) party wants to create a model society according to its own political leanings," said Kamuran Karaca, of the left-leaning Education and Science Laborer's Union.
The government's moves have included loosening the headscarf ban; dramatically increasing the number of religious schools; and ending the school ritual in which students pledged allegiance to secular principles.
As an indication of possible steps to come, the country's national education advisory council, dominated by a pro-government teacher's union, recommended a series of other controversial measures that included increasing the number of compulsory religious classes from one to two hours per week; lowering the starting age of these classes to six from nine; and removing a class on the preparation of cocktails from vocational tourism schools' curriculum.
Government-allied educators say Turkey is returning to its cultural roots.
"In Turkey, the education that was offered was one that was directly opposed to the people's own culture (and) own civilisation," said Ali Yalcin, deputy head of the pro-government Egitim Bir-Sen teachers' union, which proposed many of the recommendations.
Hundreds of pro-secular students and teachers boycotted schools nationwide on Friday in protest of the government's measures, including members of the Alevi Shiite sect that constitutes Turkey's largest religious minority.
The European Court of Human Rights has ruled that the mandatory religion classes are an affront to Alevi students' religious freedoms.
The government insists that the course teaches general knowledge about all faiths – a claim dismissed by critics who say that Sunni teachings still dominate the syllabus.
Critics say that while the government is focused on entrenching religion in schools, it has been ignoring the Turkish education system's serious failings.
Ali Yalcin, of the pro-government teacher's union, denies a deliberate move to force religion on the students through the elective classes.
"The aim is to open the way to elective religious education, in line with the wishes of the people," he said. "There is no question of forcing the classes on students."
Education expert Abbas Guclu, who writes for Milliyet newspaper, argues that increasing religious education may not necessarily lead to a more pious generation.
"It is not possible to control the youth of today," Guclu said. "If they spend three or five hours at school, they spend eight or ten hours in front of the Internet, the social media or television. For every few hours of religious education they spend hundreds of hours elsewhere, being bombarded by other things."
Police in Izmir detain demonstrators at today's nationwide against compulsory religious classes across Turkey https://t.co/VRuP9F4JDn

— reported.ly (@reportedly) February 13, 2015