Demonstrators in Athens and Brussels tell EU finance ministers - no more austerity!
Comments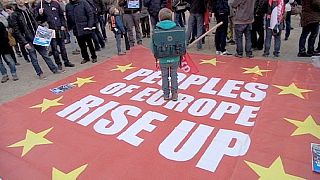 While Europe's finance ministers were discussing Greece's future, only a few metres away demonstrators were sending their own message. It was one of solidarity with the Greek people – "No more troika no more austerity."
"Hope for change in Europe is coming from Greece. There is no doubt about that. It's the only government looking like it's pushing forward a progressive agenda, a positive agenda for the future of Europe, particularly for young people of Europe,"said a young man from Ireland.
As austerity deliberations commence the Greek Govt. & Greek ppl are well aligned with mass austerity demos in Athens! pic.twitter.com/uaK5mZtLKZ

— sotiros (@sotirops) February 11, 2015
As their own finance minister was locked in battle in Brussels, in Athens thousands turned out in a show of support. They's been won over by promises of a bailout renegotiated and an end to tough reforms demanded by international lenders. In fact a recent poll has put the new government's popularity rating as high as 75 percent.
One demonstrator said: "Over the last four years austerity has devastated us, and it was not imposed on us as a policy, but as an ideology. We don't need it, we need growth."
While another said: "We have suffered a great injustice, and this must be remedied. We still want to be part the EU but standing on our feet and not crawling."
Reporting for euronews in Athens Stamatis Giannisis said:
"This is a very rare occasion, where Greeks are staging a rally in support and not against their government. And it is as rare as the fact that after only two weeks in power, the left wing SYRIZA – led government has further increased its popularity amongst the country's voters."