'Kayla's calling was to help those who are suffering', US pays tribute to aid worker and ISIL hostage
Comments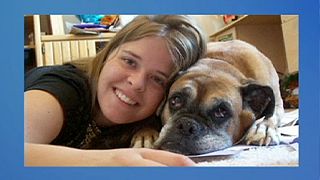 Kayla Mueller, the US aid worker who died while being held hostage by ISIL militants in Syria has been remembered by family and friends in her hometown as a 'compassionate and devoted humanitarian'.
A makeshift shrine has sprung up in her hometown of Prescott, Arizona, adorned with flowers and a toy bear and large white sign with the words, 'Pray for Kayla'.
Her aunts, Terri Crippe and Lori Lyon, braved the barrage of cameras and microphones to talk of Mueller's compassion and dedication to her humanitarian work.
"Kayla's calling was to help those who are suffering, whether in her hometown of Prescott or on the other side of the world," said Lyon fighting back tears. "She has done more in her incredible 26 years than many people can ever imagine doing in their lifetime."
Her aunt expressed hope that her niece's fate would inspire Americans to do more to help those suffering in conflicts saying "the world wants to be more like Kayla".
Growing memorial today in Prescott for Kayla Mueller. Someone added a pink cowboy hat. pic.twitter.com/nIdGgDDQgm

— Anne Ryman (@anneryman) February 11, 2015
Mueller had been working for a Turkish relief agency on the Syrian border starting in 2012. She was taken captive by ISIL in 2013 in Aleppo, celebrating her 25th and 26th birthdays as a hostage. However, in a letter written to her family she remained positive.
"I will not give in," Kayla Mueller wrote her loved ones as she was held hostage by ISIShttp://t.co/OebmPRZoSSpic.twitter.com/MdzZB6KJ3l

— New York Times World (@nytimesworld) February 11, 2015
The White House confirmed that Mueller, 26, had died but the circumstances surrounding her death remain unclear. ISIL claims she died in a Jordanian airstrike in Syria, however, the US denied this citing lack of evidence.
Jordan is part of the US-led coalition fighting the Islamist militant group in Iraq and Syria. Jordan has increased its airstrikes against ISIL in retaliation to the brutal killing of one of its pilots by the group last week.
President Obama paid tribute to Mueller saying she "represents what is best about America", and vowed that, "No matter how long it takes, the United States will find and bring to justice the terrorists who are responsible for Kayla's captivity and death." In an interview with BuzzFeed he said the US had done everything they could to free Mueller, mentioning a rescue operation in 2014.
Obama also said that the US is sticking to its policy of not paying ransoms saying, "that once we start doing that, not only are we financing their slaughter of innocent people and strengthening their organisation, but we're actually making Americans even greater targets for future kidnappings."