Iran marks Islamic Revolution anniversary
Comments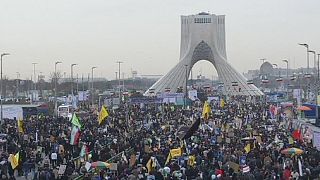 Thousands of Iranians across the country are celebrating the 36th anniversary of the 1979 Islamic Revolution.
As a result of the uprising, many Western countries severed ties with Tehran and imposed sanctions that have ravaged the Iranian economy.
The punitive measures are also meant to force Iran to reveal more about its nuclear programme, but the Iranian president insists his country can cope.
In a speech to a massive crown in the capital, Hassan Rouhani said: "The weight of sanctions has not forced Iran to sit at the negotiating table. Iran has come to the table for the sake of logic and to create peace and stability in the region and world.
The rift between the West and Iran began when Islamic militants took 52 US embassy staff hostage to demand the extradition of the exiled Shah.
The Islamic fundamentalist Ayatollah Khomeini backed their calls, sowing the seeds for three decades of mistrust.