Vow to crush Boko Haram met with scorn
Comments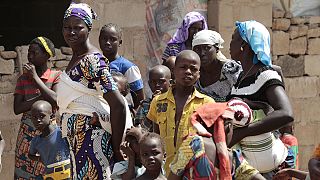 The Nigerian government is insisting that a widening offensive by Boko Haram will be crushed, and there will be no further election postponement, although the Islamist terrorist group continues to wreak havoc in the region.
In January, 153,000 Nigerians fled across borders to escape, two thirds of them to Niger, one of the poorest countries in the world.
Boko Haram's ambition is to create a hardline Islamic state here.
The World Food Programme warns that it expects to have to feed more than 230,000 people in the Lake Chad region this year.
The UN agency's Antonio Avella described the situation as critical and alarming, saying that half the people crossing the border are food insecure and that one out of every three children is malnourished.
The governments of Cameroon, Chad, Niger, Nigeria and Benin have agreed to establish an 8,700-man force to take on Boko Haram.
The aim of the combined mission is to wipe out the group in six weeks, by Nigeria's rescheduled election, on 28th March.
Troops from Chad are already fighting inside remote northeastern Nigerian territory and claim to have killed hundreds of Boko Haram fighters last week.
General Ahmat Dari Bazine said: "Our defence forces are always one step ahead of our enemies and we are ready to confront them. They're just bandits, small-time thugs. It's a criminal sect, not an army that respects international conventions."
Since 2009, the conflict has claimed more than 13,000 lives.
At the weekend, the militants raided a prison in Diffa, southeast Niger. They were driven off but an explosion claimed lives in a local market.
On Sunday, 20 bus passengers in the far north of Cameroon were kidnapped, and 12 of them executed before the rest were let go.
In propaganda online, Boko Haram mocked the west African multinational force initiative.
The United States estimates the Islamists may have 6,000 fighters. Their leader Abubakar Shekau said: "You send 7,000 troops? …send seven million."
The Nigerian army has been ineffective against Boko Haram for six years.