Greece will leave the Eurozone, says Alan Greenspan
Comments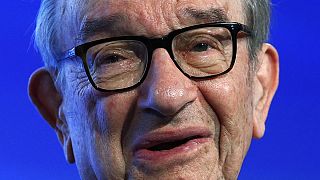 Greece's departure from the Eurozone is inevitable and "just a matter of time", according to Alan Greenspan, the former chairman of the US Federal Reserve.
Speaking to the BBC, Mr Greenspan said: "Greece's position is if they don't get additional loans they will default and leave the euro. I don't see any people willing to put in their funds having been disappointed so often.
"I believe [Greece] will eventually leave. The problem is that there is no way that I can conceive of the euro continuing, unless and until all of the members of eurozone become politically integrated – actually even just fiscally integrated won't do it."
His remarks come as the Greek PM said his country urgently needs "a bridging loan": http://www.euronews.lan/2015/02/08/greek-pm-rejects-extending-bailout-and-seeks-loan-to-keep-country-afloat/ to give the country some breathing space before the real debt negotiations begin.
In his first major speech to parliament since winning the general election Alexis Tsipras condemned the country's "cruel austerity plan" and reiterated his promise to reverse reforms imposed by lenders and agreed by his predecessors.