Yemen: Houthi leader defends power takeover
Comments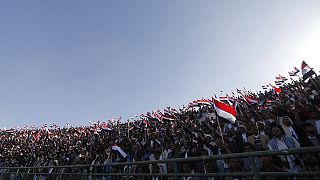 Leader of the Houthis Abdul Malik has defended a takeover of power his rivals have denounced as a political coup.
Speaking via video link-up to supporters in a stadium in the capital, he said the move was a "historic, necessary and important step" to avoid a power vacuum in Yemen.
He added that the Houthis were open to working with other political groups.
"The space is open for partnership, cooperation and brotherhood," he announced.
"Today, I say to the political forces, there is no need to oppose this initiative. This wise initiative has corrected the political process in Yemen. It was carried out with the goal of organising an interim government, based on partnership rule."
Elsewhere in Yemen, thousands took to the streets for a second day to protest against the Shi'ite rebel takeover.
In the southern city of Taiz, activist Wael al-Bahouni predicted a rocky road ahead for the Houthis.
"I consider this step they have taken hysterical," he said. "It is an act of disrespect to the Yemeni people, each of whom is fighting and struggling for their own ambitions. This will get the Houthi group, which calls itself the 'Ansar Allah Party' into trouble, both regionally and internationally."
The Gulf Cooperation Council, made up of Yemen's neighbouring countries, has expressed concern, calling for the United Nations Security Council to "put an end to this coup."