Search for peace in Ukraine switches from Moscow to Munich
Comments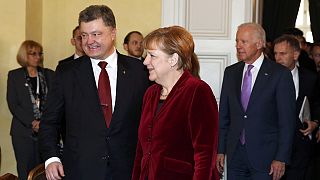 The violence in Ukraine is dominating the second day of the security conference in Munich.
The US Secretary of State John Kerry is in attendance as are the top EU security officials.
German Chancellor Angela Merkel outlined her vision of the role she wants Russia to play in safeguarding the security of Europe: "We want to ensure security in Europe with Russia not against Russia. It is not guaranteed that the talks I had in Moscow alongside the French president will be successful, but in my opinion and the opinion of the French president it was a step worth taking. We owe it to the people affected by the crisis in Ukraine."
Following an inconclusive end to Friday's talks in Moscow the three leaders agreed to hold a four-way-phone call including Ukraine's President Petro Poroshenko scheduled for Sunday.