UN report accuses ISIL of torturing and killing children in Iraq
Comments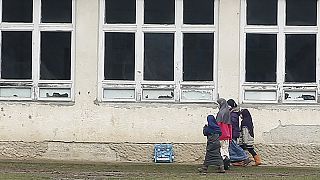 The jihadists known as ISIL are abusing and killing children in Iraq in ways which amount to systematic war crimes.
According to a report by the UN Committee on the Rights of the Child, boys of ten are being trained as child soldiers, girls as sex slaves and hundreds of others have been tortured and executed.
The report also cites several cases of mass executions of boys as well as beheadings, crucifixions of children and burying children alive.
Children of minorities or who are just vulnerable are being especially targeted says one of the report's authors, Renate Winter:
"We have had reports of children, especially children that are mentally challenged, who have been used as suicide bomber, most probably without even understanding what is happening to them or what to expect."
The latest verified ISIL video shows the group broadcasting the death of a Jordanian pilot on giant public screens to crowds that included young children.
The UN accuses ISIL of using terror as a method of control and of accustomsing children to violence and brutality.
ISIL is a breakaway al Qaeda group that declared an Islamic caliphate across parts of Syria and Iraq last summer. It has killed thousands and forced hundreds of thousands from their homes, in what the United Nations has called a 'reign of terror'.
The 18 independent experts who worked on the UN report have called on Iraqi authorities to take all necessary measures to "rescue children" under the control of ISIL and to prosecute perpetrators of crimes.
"There is a duty of a state to protect all its children. The point is just how are they going to do that in such a situation?", Winter said.